Inspire Scholarship 2023 : Regardless of their financial situation, every student deserves the opportunity to pursue an education. To encourage students to pursue careers in the field of science, the Ministry of Science and Technology has introduced the Inspire Scholarship 2023. This scholarship program offers various financial incentives to students studying in the science stream. This article aims to provide a comprehensive overview of the scheme, including its objectives, benefits, features, eligibility criteria, required documents, and application process. If you are interested in learning more about this scholarship scheme, this article will provide you with all the necessary information.
About Inspire Scholarship 2023
On November 13, 2008, the Department of Science and Technology launched the Inspire Scholarship scheme under the Science Pursuit for inspired research (INSPIRE) initiative. This scheme has a total cost of 1979.25 crores. The government offers scholarships worth Rs 80000 to 10000 students annually for a duration of five years or until the completion of their course, whichever comes first. The aim of this scheme is to provide financial assistance to students who are interested in pursuing education in the science stream but are unable to do so due to their economic circumstances. The Inspire Scholarship 2023 is one of the components of the larger Inspire scheme. 
The scheme aimed at inspiring students encompasses three main components: early talent attraction schemes, higher education scholarships, and research career opportunities. The government provides a range of awards, internships, scholarships, and fellowships through this initiative to ensure that all students have the chance to pursue advanced education.
Financial Incentives Under Inspire Scholarship
The department is introducing the Inspire Scholarship Scheme, which provides a total scholarship of Rs 80,000 per year. Each candidate will receive an annual scholarship of Rs 5,000 per month, amounting to a total of Rs 60,000. As part of the program, all scholars must participate in a summer research project, supervised by an active researcher at a recognized research center in India. To cover the expenses associated with this mentorship, a summertime attachment fee of Rs 20,000 will be provided each year. Upon completion of the project, the scholar must submit a project report and a certificate from the mentor within the given timeframe.
Details Of Inspire Scholarship Scheme
| | |
| --- | --- |
| Name Of The Scholarship | Inspire Scholarship |
| Launched By | Department Of Science And Technology |
| Beneficiary | Students |
| Objective | To Provide Scholarship |
| Year | 2023 |
| Official Website | https://online-inspire.gov.in/ |
Objective Of Inspire Scholarship
The primary goal of the Inspire Scholarship 2023 is to encourage young individuals in the country to take an early interest in studying science, with the aim of building a qualified and competent pool of individuals to strengthen and expand the science, technology, research, and development sectors. This scholarship scheme will provide financial support to students pursuing careers in the field of science, ensuring that their education is not hindered by financial constraints. Thanks to the support from the Department of Science and Technology, students can now pursue their education without worrying about their financial situation. Additionally, this scheme will contribute to an increase in the overall literacy rate. Students can avail financial assistance through this scholarship scheme at all levels, including up to doctoral studies, thereby promoting the research and development sector.
Benefits And Features Of Inspire Scholarship
The Innovation in Science Pursuit for Inspired Research (INSPIRE) scholarship was introduced by the Department of Science and Technology on November 13th, 2008, for a total of Rs. 1979.25 crores.

Every year, the government provides 10000 students with college scholarships worth Rs 80,000.

Through this program, financial aid will be made available to all students who wish to major in science but are unable to do so due to their financial situation.

This scholarship is a part of the Inspire program.

Through the Inspire program, the government also provides a variety of prizes, internships, scholarships, and fellowships.

With the start of this program, the goal is to guarantee that every student has the option to pursue higher education.

This scheme does not believe in conducting competitive exams for the identification of talent at any level.
Subjects Available Under Inspire Scholarship
Physics

Electronics

Astronomy

Geology

Statistics

Mathematics

Astrophysics

Biophysics

Genetics

Biology

Zoology

Botany

Microbiology

Anthropology

aquatic biology

Ecology

Coastal science

Chemistry

Biochemistry

Geochemistry

Geophysics

Environmental science
Types Of Scholarship Under Inspire Scholarship Scheme
Scheme for early attraction of talent or SEAT-
The Inspire Scholarship Scheme aims to attract talented students to pursue studies in the field of science. To entice students, the scheme offers an Inspire Award of Rs 5000 to one million young learners between the ages of 10 and 15, spanning from class 6 to class 10. Additionally, the scheme organizes annual summer camps for 50,000 science students in class 11. These camps provide the opportunity to interact with global leaders in science, allowing students to indulge in the excitement of innovation.
Scholarship for higher education or SHE-
A program has been initiated to encourage more students to pursue higher education in Science intensive programs. This program offers scholarships and mentorship to 10,000 students annually, providing Rs 0.80 lakh per year. Students between the ages of 17 to 22 years can take advantage of this program to pursue bachelor's and master's level education in natural sciences. Every beneficiary of this program receives mentorship support as well.
Assured opportunity for research career or AORC-
The purpose of launching this program is to attract and support young scientific talent, in order to strengthen the foundation and advancement of research and development. The program consists of two sub-components. The first component is a fellowship program, which provides 1000 scholarships annually to students between the ages of 22 and 27. These scholarships enable them to pursue a doctoral degree in various fields, such as basic and applied sciences, engineering, and medicine. The second component is a faculty scheme, which guarantees an opportunity for 1000 postdoctoral researchers between the ages of 27 and 32. They are offered contractual and tenure-track positions for five years in areas related to basic and applied sciences.
Eligibility Criteria Of Inspire Scholarship
A permanent Indian resident is required to apply.

The applicant's age should range from 17 to 22 years.

The student must be enrolled at an accredited university.

All Indian students who earned a cumulative grade point average in the top 1% in their class 12th test by a state or national board are eligible.

The student must be enrolled in natural and fundamental sciences courses at the BSc, BS, or combined MSc/MS level.

All students enrolled in natural basic sciences programs in India and who received a rank in either the JEE of the IIT or the AIPMT (among the top 10,000 rankings) are eligible to apply.

Students pursuing MS programs in natural and basic sciences at IISER, NISER, Department of Atomic Energy Center for Basic Sciences, University of Mumbai, Visva Bharati, Shantiniketan, and who obtained the top 1% cumulative marks in the class 12th examination of the state or Central board in India may also apply.

Students who have been chosen for the Kishore Vaigyanik Protsahan Yojana and are enrolled in natural science bachelor's or master's level studies are also eligible to apply.

Students who have achieved academic success in the natural sciences at the bachelor's or master's level and who have won medals at international competitions like the Jagdish Bose National Science Talent Competition are also eligible to apply.
Required Documents To Submit Along With Application Form
Marksheet of Inter

Marksheet of Matric

Endorsement certificate as per prescribed format which is signed by principal of the college or director of Institute or registrar of University

Eligibility note/advisory note if provided by the state or Central board

Certificate specifying rank or award JEE (Main)/JEE (Advanced)/NEET/KVPY/JBNSTS/NTSE/international Olympic medalist

Aadhar card

Photocopy of Bank passbook

Caste certificate

Passport size photograph

Phone number
Procedure To Apply Under Inspire Scholarship Scheme
Visit the Department of Science and Technology's and the Ministry of Science and Technology's official websites first.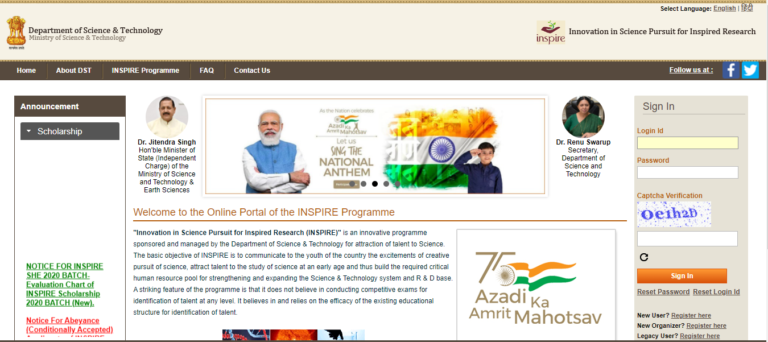 Before you, the home page will load.

You must click on new user signup here on the site.

You'll see the signup page there.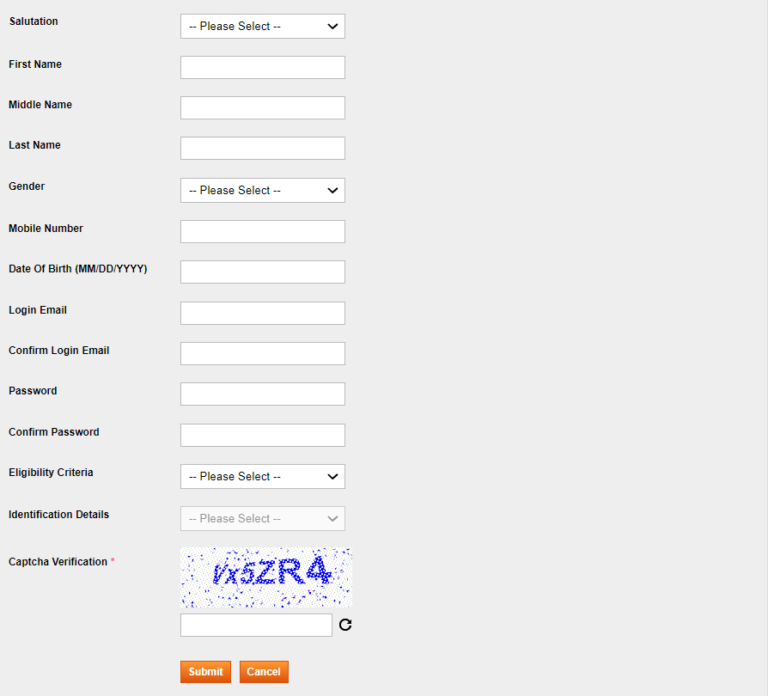 The following information must be entered on the registration page – Salutation , Name , Gender , Phone number , Date of birth , Login email , Password , Eligibility criteria , Identification details, Captcha Code.

After that, you must select "submit."

You must now enter your login information to log in to the portal.

You must now select inspire scholarship.

A scholarship application will show up.

You must complete this form with all necessary information.

You must now upload all necessary papers.

After that, you must select "submit."

This process will allow you to submit an application for the Inspire Scholarship program.
Procedure To Login On The Portal
Visit the Department of Science and Technology's or the Ministry of Science and Technology's official website.

Before you, the home page will load.

You must enter your login ID password and captcha code under the login area.

You must now click "sign in"

You can log in to the portal by using this process.
Procedure To View Contact Details
Visit the Department of Science and Technology's or the Ministry of Science and Technology's official website.
Before you, the home page will load.
To contact us, you must click on the main page.
Before you will be a new page.
You can see the contact information on this new page.
Note :- In today's article, we have given you complete information about Inspire Scholarship 2023. If you still want to ask or know something, then you can ask through the comment box!
Please note :- We first give such information through our website Helpinonline.com, so don't forget to follow our website.
If you guys liked this article then like and share it.
Thank you for reading this article from beginning to end.
Posted By :- Sonu Gupta

FAQ'S – Inspire Scholarship 2023
Q. Who is eligible for inspire scholarship?
Meritorious Students with aggregate marks within top 1% of their Class XII examination of any State/ Central Education Board in India are eligible. In addition, the student must be pursuing courses in Natural and Basic Sciences at the B.Sc., B.S., and Int.M.Sc./M.S. level.
Q. What is the amount of inspire Scholarship 2023?
Following selection, each student will receive Rs 80,000 per year. The Inspire scholarship money is divided into two parts: annual scholarship (Rs 60,000) and summertime attachment fees (Rs. 20,000).